Hardwood vs. Laminate Flooring
Posted July 16th, 2018
There are many flooring options to choose from, but most people don't know the differences between hardwood and laminate flooring. Each material has different advantages and disadvantages that characterize them. So, which one will be best for your home?

Hardwood Flooring
Hardwood is a common staple in many houses, adding character and style. It is a unique organic material with no two boards looking exactly alike. There are many different species of hardwood to choose from including red oak, white oak, maple, and cherry. Hardwood comes in a variety of colors, patterns, and durability. The durability of each type of wood is classified by the Janka Hardness Scale. This scale ranges from 0 (a really soft wood) to 4000 (a really hard wood). For reference, white oak has a rating of 1360 and red oak has a rating of 1260. Both are very popular wood flooring choices. Floor Trader offers a wide assortment of quality hardwood flooring guaranteed to make a great addition to any home.
Characteristics of Hardwood Flooring:
Durability: hardwood can withstand normal wear and tear, but how much each type can withstand depends on their hardness rating

Longevity: with proper care and maintenance hardwood floors can last upwards of 30 years

Maintenance: over the years hardwood floors are able to be sanded and refinished to restore them

Installation: normally a professional is needed to install correctly

Cost: the cost for hardwood can be more expensive than alternative materials

Resale Value: according to the National Association of Realtors 54% of home buyers were willing to pay more for a home with hardwood which shows hardwood flooring adds value to any home
Laminate Flooring
A budget friendly alternative to hardwood, laminate replicates the look and style of hardwood flooring without the lofty price. Laminate is created from four layers of material fused and pressed together at high temperatures. The four layers consist of a backer paper at the bottom, a particle board wood, decorative paper placed over top of the board, and an overlay layer at the very top. Technology has greatly improved and the high quality decorative paper prints very realistic replications of natural hardwood flooring. Laminate comes in a wide array of colors and styles sure to match any home.

Characteristics of Laminate Flooring:
Durability: due to the compressed wood board, laminate is very durable and resistant to normal scratches and moisture, but if exposed to excessive moisture laminate can begin to warp

Longevity: depending on the quality of the boards laminate on average can last about 15 years

Maintenance: laminate is fairly easy to clean, but can't be sanded and restained like hardwood; if damaged laminate will have to be replaced

Installation: installed as a floating floor above a subfloor; fairly easy to install so you can opt to DIY

Cost: the cost for laminate is budget-friendly, but cost varies based on quality

Resale Value: laminate isn't as highly valued to potential buyers as hardwood
Overview
| | |
| --- | --- |
| Hardwood Flooring | Laminate Flooring |
| Long lasting with proper care | Lasts about 15 years with proper care |
| Comes in a variety of colors and textures | Comes in a variety of colors and textures |
| Can be sanded and stained | Needs to be replaced if damaged |
| Higher costs | Lower costs compared to hardwood |
| Spills can create stain if not handled immediately | Easy spill and moisture clean up |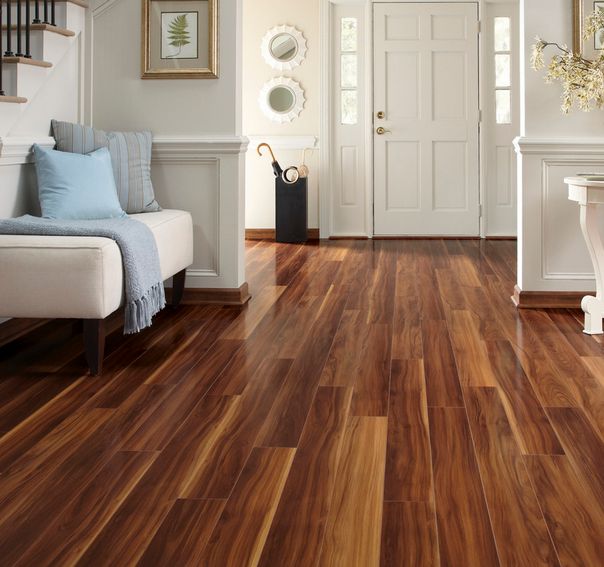 There are many options to decide from when selecting flooring for your home. For quality products you can trust go to Floor Trader of Virginia. Contact Floor Trader of Virginia Chesapeake or Virginia Beach locations for professional help and more information on the best product for your home.