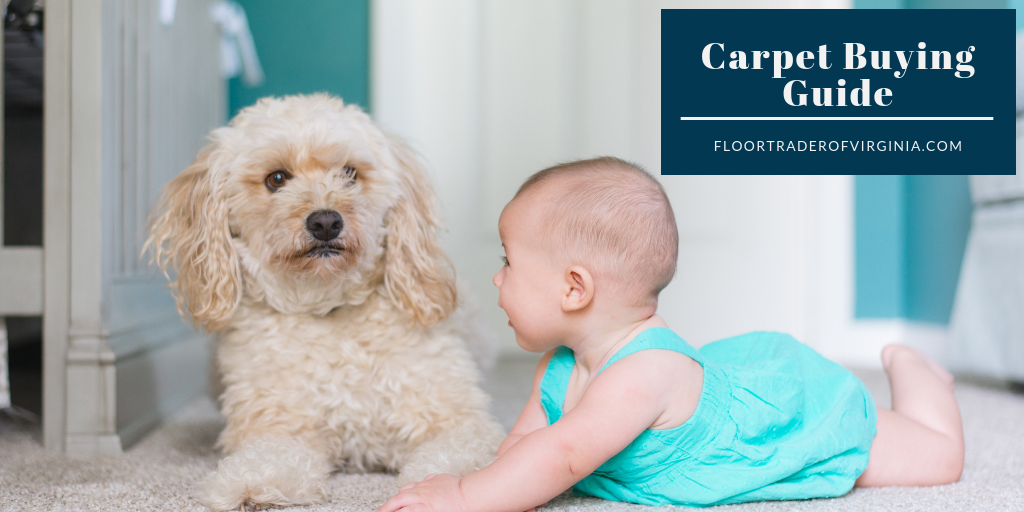 Investing in new flooring can be a stressful and extensive process from figuring out which type of flooring is the best fit for your family's needs to finding the perfect color and pattern to match your home's aesthetic. Carpet is one of the top flooring choices among homeowners and for good reason: it's comfortable underfoot, non-slip, a great surface for children to play on, it reduces noise levels, and it insulates the room, keeping it warmer in the winter.
But with so many colors, styles, and surfaces available on the market, it can be rather overwhelming to buy carpet. We're here with everything you should know before buying carpet. Let's start by decoding some common carpet terms:
Carpet Glossary
Backing
The backing material of carpet is typically made of woven polypropylene and it is the base of the carpet which holds the yarn in place.
Density
Measures how tightly the yarn is stitched to the backing. The higher the density of the carpet, the better the wear.
Fiber
This is the primary material that the carpet is made of. The majority of carpets these days are made of synthetic fiber (about 90%) while the remainder is made of natural fiber, most commonly wool.
Pile Height, a.k.a. Nap
The pile height, which you may also hear called the nap, is the length of the fibers measured from the backing to the tips of the yarn. You'll typically see it shown as a fraction or decimal equivalent. A general rule of thumb: shorter pile heights are more durable than longer pile heights.
Pile
Pile is either cut or uncut loops of yarn that make up the surface of the carpet.
Cut Pile
To make cut pile carpet, you essentially cut the small loops of yarn. There is also a method of construction called cut and loop in which you selectively cut the loops to create a pattern in the surface of the carpet.
Frieze
This is a cut pile style that has a very high twist, which means that each strand of yarn is twisted tightly causing it to curl over at the end. This gives it a textured surface and produces a carpet with high durability and wearability.
Textured
Textured cut pile carpets are very popular because their alternating twists of yarn creates a two-tone look.
Saxony
Saxony is another cut pile style that has a smooth, plush, velvet-like look and feel to it because of its uniform twist pattern and finish. This is not a style you'd want to choose for high-traffic areas or rooms with children and it will most likely show footprints and vacuum lines.
Loop Pile
A loop pile construction is just as you might think: the loops in the yarn are left uncut and because the only parts of the yarn that are exposed to wear are the sides, loop carpets stand up to heavy traffic most effectively.
What to Consider Before Investing in Carpet
There are, of course, some factors you must consider before investing in carpet. Just like any type of flooring, carpet comes with its pros and cons.
Carpet Maintenance & Care
We recently wrote an entire Carpet Cleaning Guide so if you want an in-depth cleaning regimen for your carpet, you'll want to check out that article. Essentially, carpet needs regular vacuuming and spot cleaning when necessary and deep cleaning 1-2 times per year.
Best Uses
Carpet works best in bedrooms, playrooms, and living and family rooms because of its warmth and comfort.
Are Carpets Pet-Friendly?
Your pet will love the warm, cushiony feeling of your new carpets just as much (if not more than) you will. But carpets can trap a lot of their fur as well as the dust, dirt, fleas, and ticks that they track into the house.
And you might think that stains produced by your pet are the enemy of carpet and a couple of years ago you would have been absolutely correct. But there have been many innovations in carpet technology since then that help increase durability and stain resistance. (Want to learn more about pet-friendly flooring options? Click here.)
Pros
Carpet reduces energy bills because the fibers hold heat.

It's a good acoustic insulator.

It's slip-resistant and quiet to walk on.

Some styles of carpet are eco-friendly.

Carpet comes in a wide variety of colors, patterns, and textures.
Cons
Carpet can tend to hold onto allergens.

Carpet can soil easily and the loops can get snagged.

Carpet is high-maintenance and doesn't last as long as hard surfaces.

Carpet is not suitable for high moisture areas.
Make sure you head over and check out our wide selection of carpets.