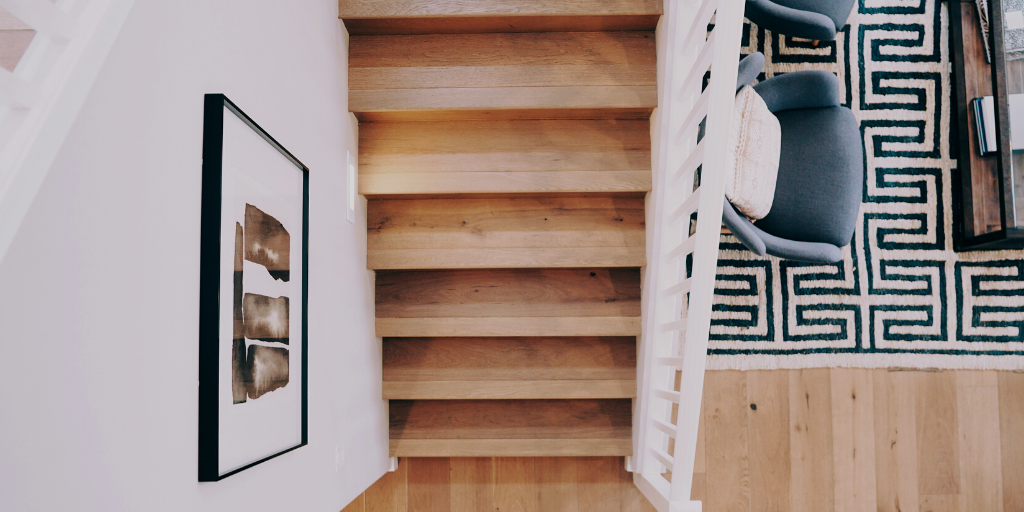 Let's be honest, with all the flooring options on the market and all the innovative products constantly being introduced, picking new flooring for your home can be a bit of an overwhelming process. So today, we're going to put aside the array of styles, colors, and textures and just discuss the basics of the best flooring options for high-traffic rooms in your home.
Best Flooring for Your Bathroom
Because we wrote an entire article on the best flooring types that can stand up to bathroom wear, we're not going to go too in-depth in this article. Essentially what you want and need out of bathroom flooring is for it to be waterproof and slip-resistant. This makes tile and vinyl both great flooring options for your bathroom and here's why:
Tile

is a tried and true bathroom flooring option for several reasons: it's water-resistant, easy to maintain and clean, and versatile. There are many different options out there to suit whatever budget or aesthetic style you're working with. Tile does, however, come with one well-known drawback and that's the fact that it's cold underfoot. This problem can easily be solved by installing heating under the floor or placing bathmats over top. You should choose a tile with a slip-resistant finish but also know that the grout lines between tiles provide traction so the more grout lines present (usually with smaller tiles) the better and less slippery.
Vinyl

has a simple installation process and comes in a variety of textured patterns that make it slip-resistant. We recommend buying it in the 12-foot-wide rolls to make for a virtually seamless bathroom floor.
Avoid: Cork and linoleum, although eco-friendly and water-resistant, are easily stained and require a lot of maintenance in order to keep them looking top of their game. Plus, linoleum is extremely slippery when it's wet.
Best Flooring for Your Kitchen
The kitchen is a high-traffic area and therefore needs to be durable, waterproof, stain-resistant, and smooth underfoot. Both sheet vinyl and engineered hardwood fit these requirements:
Sheet vinyl

, available in 12-foot-wide sheets, is also great for a seamless kitchen installation and will keep crumbs and water from slipping down any cracks. It's also a very resilient flooring type which is great for kitchens that see a lot of heavy traffic because they are slightly more cushioned underfoot which makes it more comfortable to stand on during hours of food preparation.

Engineered wood floors offer the warmth and classic look of

natural wood

combined with the moisture-defying quality of

laminate

. Most come with snap-together planks that are installed over a foam pad which again makes it more comfortable to stand for hours on.
Avoid: Vinyl tiles which, as we mentioned before, have too many seams where moisture and crumbs can find their way into and affect the subfloor.
Best Flooring for Your Bedroom
The most important thing required of bedroom flooring is that it's comfortable under bare feet but it should also be attractive and durable. The bedroom is the one room that can do well with almost any type of flooring but our favorites for the bedroom are carpet (of course) and laminate. Here's why:
Carpet is great because it's warm and soft to the touch, budget-friendly, available in a variety of colors and patterns, helpful in dampening sound, and controls room temperature, all factors that make it the hands-down best flooring choice for the bedroom. As you might have read in our

carpet buying guide

, carpet comes in two major categories: cut pile and loop pile. Textured cut pile carpet is the most popular choice for bedrooms because it's soft, looks casual, and resists dirt relatively well.

Laminate flooring looks like real wood (or stone if that's what you prefer) but it has a protective plastic covering. It's a pretty simple DIY installation and it holds up to daily wear-and-tear. If you want to make it softer underfoot, area rugs are a great option.
Avoid: As we mentioned, there is really no floor that you can go wrong with in your bedroom.